HOME
Chocolate Food of the Gods -
Delicious Chocolate Truffle Recipe - Surely the world's quickest



RECIPE


Your favourite chocolate e.g. milk, dark, flavoured plain, vegan etc.
(I love good quality organic dark with toffee bits or nuts)
Something to trufflesise it. (stop it from solidifying back into a bar)

E.g.
Coconut cream
( Organic
Coconut cream)
Oat cream
or If you really must
Dairy cream but you will not taste the difference if you opt for vegan
Pan of water &
place a
bowl on the pan so it
hovers over, not touches,
the water

Put chocolate & Play around with the amount of chocolate to suit you.
the cream of your (I have no willpower when it comes to these truffles
choice in the bowl so I only make enough for each day. I make enough for 4 truffles

I use about a third of a 100gm bar & a couple of desert spoons of cream
As I say play around to get your favourite consistency


Melt, stir it thickens a bit
remove from heat

When cool place the bowl
in the freezer for a few
minutes until it is both
soft enough to scoop out
but hard enough to roll
into balls


Roll in cocoa powder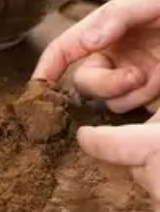 EAT Hmmmmmm!

Sharing is optional - surely done just by saints

ALL the links to these sites and companies are done so in accordance with internet courtesy and permitted
practices and copyright practice and are not trying to imply any form of ownership of, affiliation with or
endorsement of this site by these companies. Also we have linked to these in good faith and are not in anyway
responsible for any content found at these sites. Your use of this site is your agreement to all of this.



www.chocolatefoodofthegods.com
launched
22nd Oct 2015
is still under development.

Please tell your friends on your Twiiter, Facebook and other social network pages.

There mayl be Facebook and Twitter profiles when the site is more completed.

www.brit.co
renbehan.com
vegancakery.com
www.onegreenplanet.org
www.essentialvegan.co.uk
insidethewendyhouse.blogspot.nl
www.theheavenlycakecompany.co.uk
www.hannahbananabakery.co.uk
www.rebeccas-cakes.co.uk
http://www.mscupcake.co.uk
www.veganantics.co.uk
www.boojabooja.com
www.divinechocolate.com
www.greenandblacks.co.uk
www.hotelchocolat.com
www.prestat.co.uk
/www.rococochocolates.com